Learn How to Write a Resume That
Employers Will Notice.
---
If the thought of writing a resume seems intimidating, trust me… You are not alone!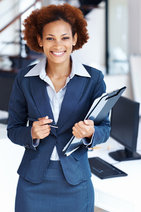 Whether you are building it from scratch or updating your current one, you have come to the right place.
This site will provide all the tools and instructions that you need to get to the next phase of your job search -        the interview.
This site was designed to reveal valuable job search tips and techniques, directly from professionals.  We know what works and can help you understand what employers are looking for.
Just follow the simple instructions provided on this site.

If you have questions or need personalized assistance, just ask us.  We are here to help you and will answer any questions you may have.
You can also see what other visitors have asked.
On this site, you will learn how to:
Highlight your accomplishments and qualifications.
Sell yourself in a way that makes the employer want to speak with you further, and ultimately call you for an interview.
Articulate how you are qualified for the position.
Stand out from the crowd by showing how you can do the work better than other candidates.
What is a resume?

Your first impression on the hiring manager.
A self advertisement that showcases your abilities, accomplishments and qualifications.
A brief account of your professional or work experience.
The tool that opens doors to an interview.
Show employers what your accomplishments are and how your qualifications "match" the responsibilities of the job. The employer wants to know how you can meet their needs, and an excellent resume will accomplish this.
Your resume is your first contact with the potential employer, so it has to be excellent. Other applicants have applied for the same position. They are your competition, and you have to stand out from the crowd.  We will help you learn to do that.
We will provide instructions to help you accomplish everything we have outlined above.

---
Ready? Let's get started by taking a look at the basics.
The Basics – Simple Instructions for Getting the Basics Right.
Learn how to get the basics right. Find easy to understand tips about preparation and section headings.
Which Style is Best For Your Situation?
Learn how to choose the style that works best for you. The choice you make depends on your own individual needs.
Cover Letters - Impress The Employer.
Cover letters are designed to complement your resume. Learn how to write an effective cover letter that will impress any employer.
Interview Tips - Techniques For Successful Interviews
Need interview tips that will help you pass your next interview? Find tips on preparation, types of interviews, proper attire, common interview questions, and thank you letters.
Plan Your Job Search - Five Step Plan
Follow these five steps to effectively plan your job search. A solid plan will result in a more successful search.
Ask a Recruiter - Job Search Questions
Need Help With Your Job Search? Resume Writing? Interview Tips? Ask a Recruiter Here.